100% satisfaction guarantee
100% Satisfaction guaranteed
View full details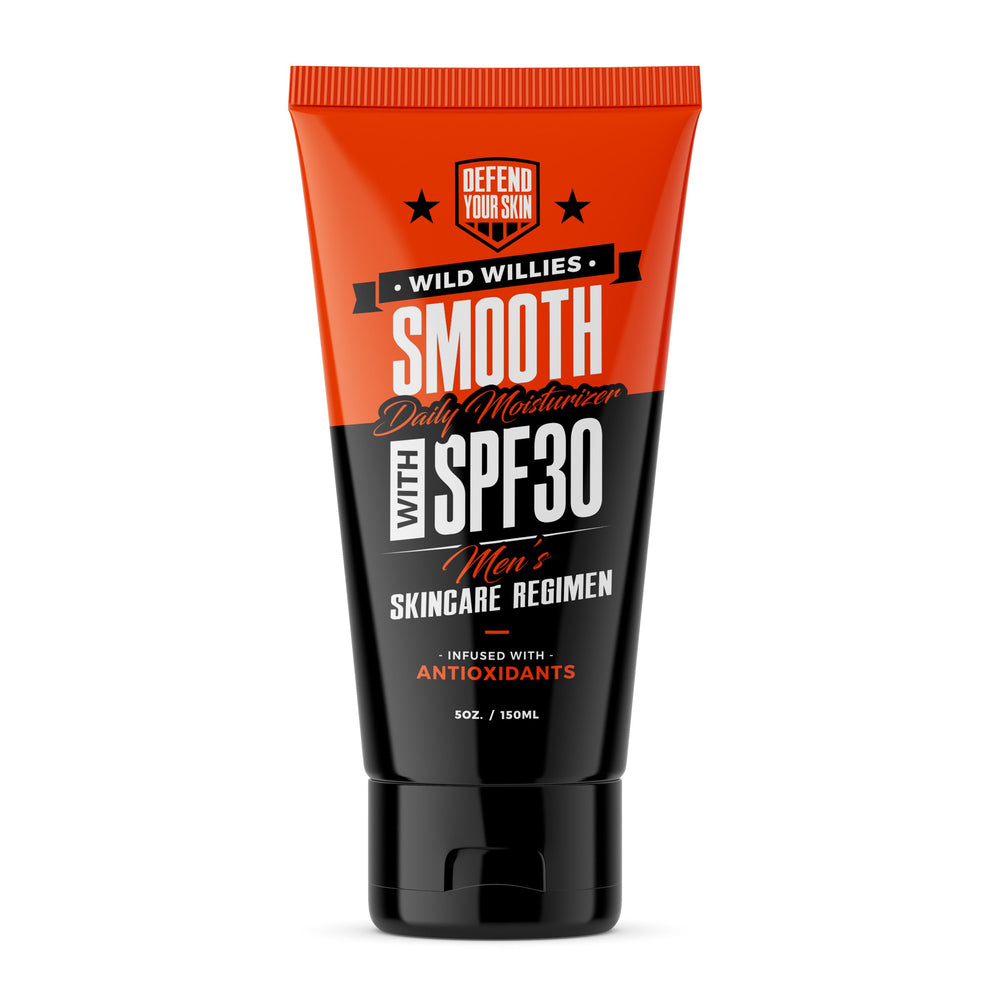 The Sun Protection Cream You Never Knew Your Needed
Fellas, it may not be fun -- or manly -- to think about, but your skin is very important and needs to be protected. That is why here at Wild Willies we developed Smooth With SPF in order for you to keep your skin in its tip top shape. Our Smooth cream is a top of the line sun protection cream to help men keep their skin in the perfect condition.
Although it may not always seem like it, there are a lot of good reasons why sunscreen lotion for men is important. First, your beard will look better if you keep your skin protected and well-moisturized. Lucky for you, Smooth With SPF ticks both of those boxes.
Secondly, if you have tattoos, read up. It's incredibly important for your skin to be in good shape so that your tattoos look better. Tattoos will age worse if the skin they are on gets too exposed to the sun. Smooth With SPF is a skin lotion for men who want to protect all the things about them they have worked so hard for, like their beards and tattoos. But without a doubt, most important of all, is that you want to protect yourself from skin cancer as well. The hard truth is that skin cancer is dangerous and it is on the rise. As men, it's important that we support each other and fight against the dangers of skin cancer. The best way to do that? Keep your skin protected with an SPF 30 face cream.
Sun protection creams may not seem like it is something that men should stick together on, but it is important that we take care of ourselves and that we encourage our friends to take care of their skin as well. The best part about Smooth With SPF is that, although the fact that it helps protect you from the sun is the biggest factor, that is not the only part of Smooth that matters.
Smooth With SPF helps men who want to take care of their skin and kill two birds with one stone. This is because Smooth is more than just sunscreen; it is also a fantastic facial moisturizer and cream. It allows you to keep your face moisturized and will help you look your best all the time. Plus, you have the added bonus of your skin being safe while you step up your game! Having healthy, moisturized skin is also really important for your beard. Beards are healthier and look better when the skin surrounding the beard is healthy and looks good.
There is one more thing about Smooth With SPF that truly makes it a cut above the rest. That final thing is that it smells good. Like, really good. Lots of sunscreens and skin screams smell weird and that yucky reason is the driving factor why many people opt not to use them. Here at Wild Willies, we want you to look your best and smell good doing it. Viola! There is no better way to achieve that than by using sun protection cream.
Your Ultimate Skin Defense
Smooth with SPF was specifically created to protect your skin from the harsh damage of the sun. We as men don't typically like to think that we are at risk from being outside, but the harsh reality is that skin cancer is on the rise and unless you want to look like a worn out piece of leather, you might want to start playing defense.
By simply applying Smooth to your skin daily, not only will it help keep your skin hydrated and smooth, but will protect your skin from the damaging effects of the sun.
Free shipping on U.S. orders over $50.
Orders typically ship within 1-2 business days, cost of shipping may vary based on shipping address. All shipping is calculated in real time to give you the best possible rate. We will provide tracking information via email as soon as your package ships.
While we will make sure we get your product shipped on time, we unfortunately can't control what happens after that. And with the recent increase in online demand, the shipping process may take a little longer than expected.
Wild Willies believes in 100% Customer Satisfaction.
If for any reason you find that any of our premium products aren't for you, then simply email [email protected] within 30 days of your purchase, with your PROOF of Purchase, to arrange for your product return.
So you really have nothing to worry about.  
We know that all Wild Willies products are made with only the finest all-natural ingredients and will deliver incredible results for your beard, stache and skin.
We are willing to take all the risk here in order for you to experience the awesomeness of all Wild Willies premium products.
After all, your beard deserves only the best!
Total 5 star reviews: 12
Total 4 star reviews: 2
Total 3 star reviews: 0
Total 2 star reviews: 0
Total 1 star reviews: 0
100%
would recommend this product
5 Stars

Better than the off the shelf brands!

5 Stars

Really has been helping my skin in such a short period of time

5 Stars

Great product. Fresh scent.

4 Stars

I have not been out in hot sun for long periods of time with it on yet, but so far it's much better than the other stuff I have been using.
Reviews Loaded
Reviews Added